System Status

Fast way to scan, speed up and protect your Mac daily
Tired of your Mac running slow?
Safely boost its daily performance by removing tons of the unneeded junk! Start System status to access all tools you need to swiftly scan your system and detect which unnecessary files can be deleted forever.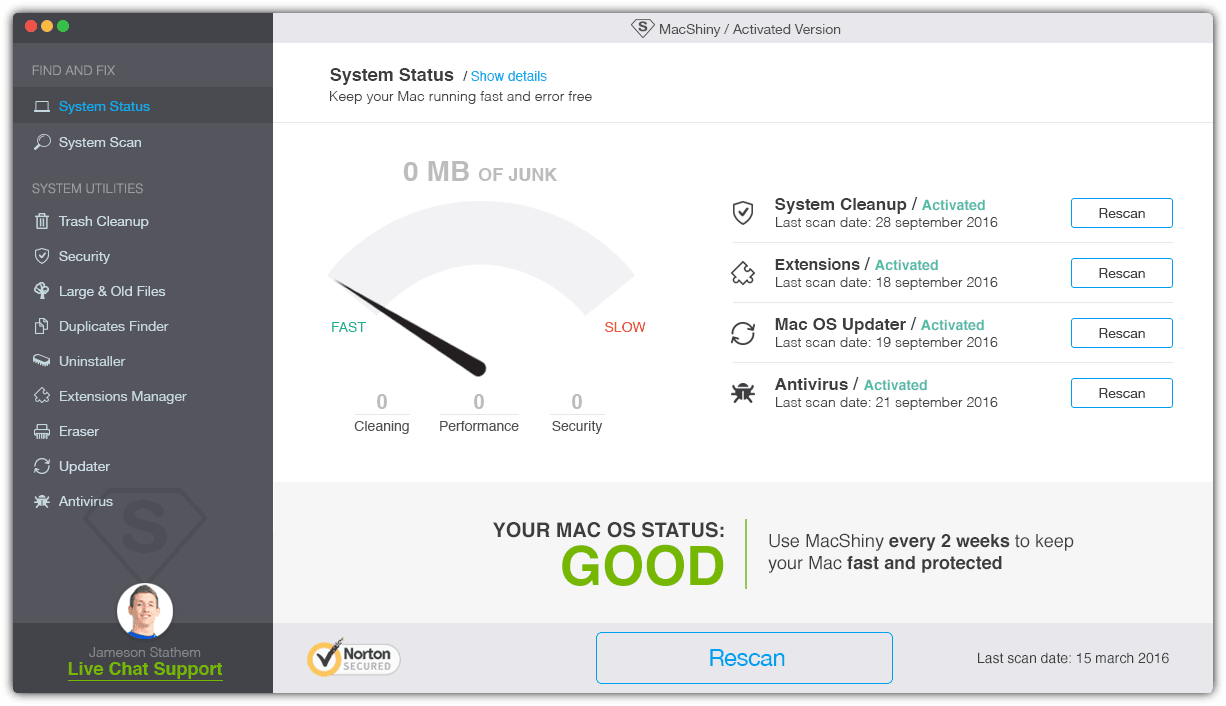 It quickly scans your Mac, showing a progress in a radial progress indicator and the files being scanned to the right. The application swiftly detects unused files which occupy valuable space on your computer. The unnecessary files detected by MacShiny can be successfully removed from your machine without causing any harm.
The results of system scan are indicated in three speedometers: Cleaning, Security and Performance. If you wish to inspect and remove some files from a certain category simply click a 'Show Details' button under each speedometer. In the new window you'll see a complete list of files detected so you are able to select any files and safely remove them.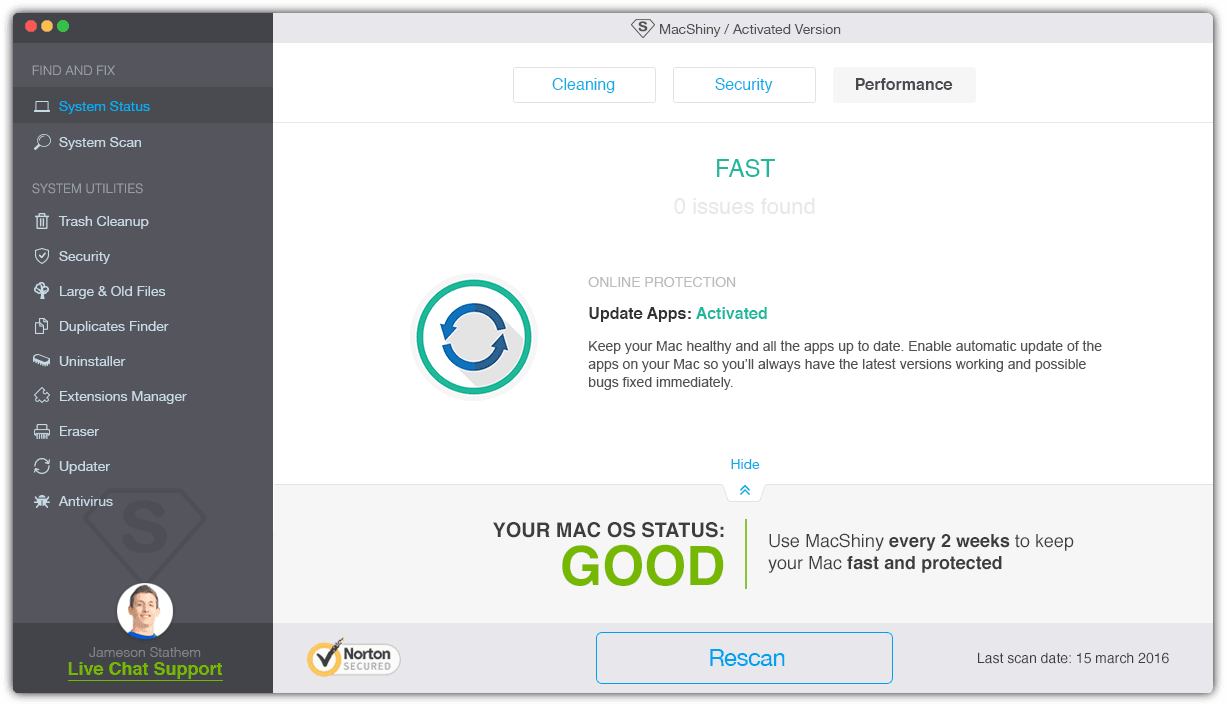 System Scan

Find and delete various types of junk
Advanced cleanup of your system can be amazingly fast! System scan lets you not only scan your Mac completely, but also find and delete various junk files: Universal Binaries, Development Junk, User Cache Files, System Cache Files, Language Files, System Log Files and User Log Files. It's safe to manually review each file suggested for deletion and automatically remove the detected junk files altogether.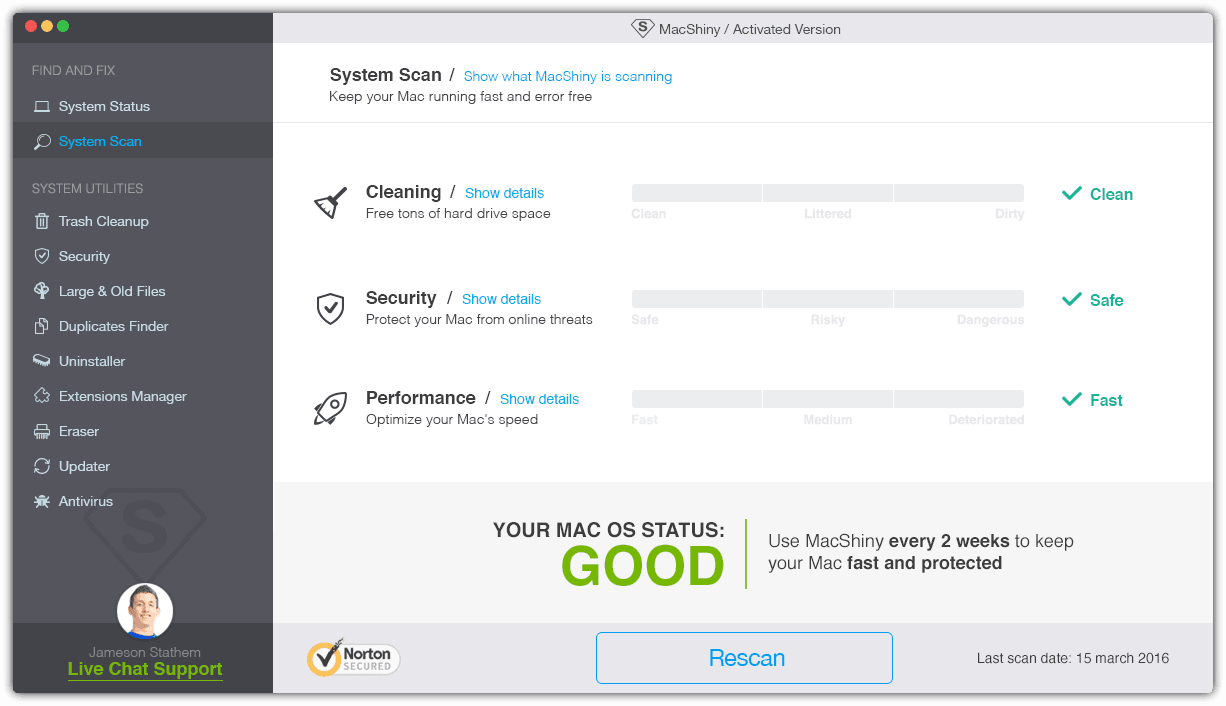 System Scan
As a result of the System Scan you'll be located to the System scan window. In this resulting window you'll see some or all types of unneeded system files, which are recommended for removal: Language Files, User Cache Files, Development Junk, User Log Files, System Cache Files, Universal Binaries, System Log Files.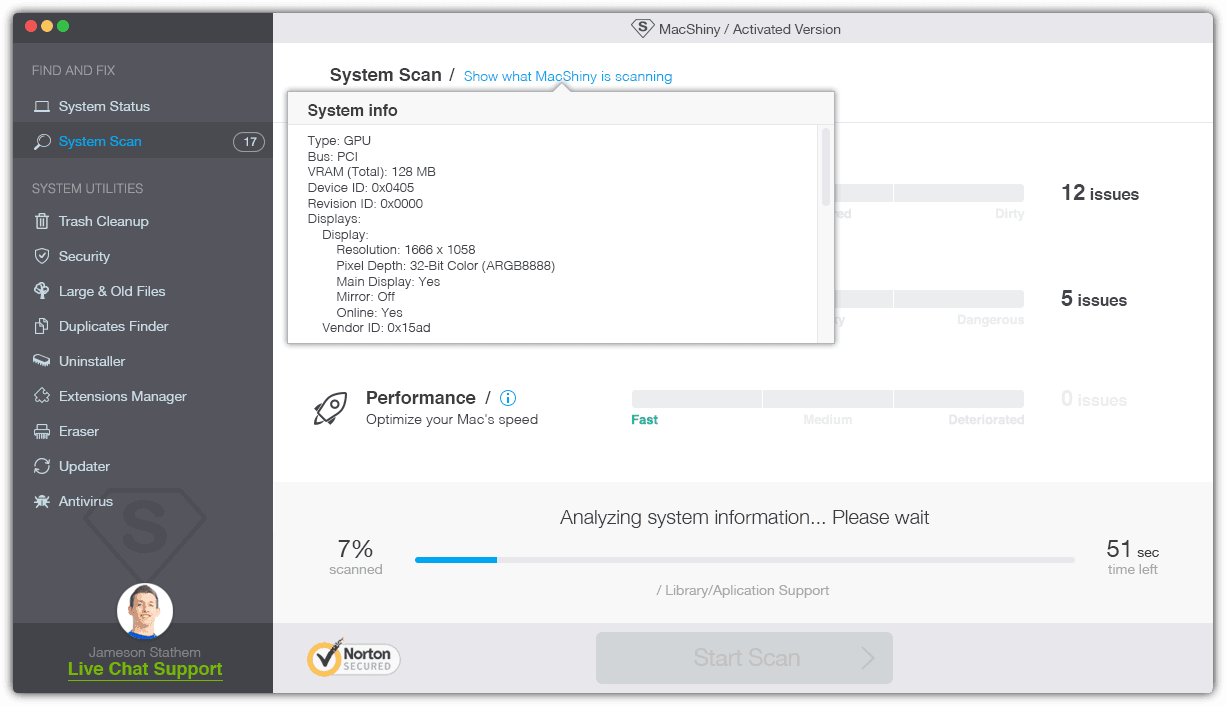 Language Files

Each application installed on your Mac has different localizations. Normally we use programs only in one language, so other unneeded language files can be removed.

User Cache Files

User Cache Files are all temporary files created by various web browsers and applications installed.

System Cache Files

Many system programs create temporary files for their faster launching and operating.

User Log Files

Special text files created to record all requests made to applications and websites used by user are user log files. Despite you install and uninstall different apps such log files keep piling up on your system in bulk, that's why must be removed from time to time.

System Log Files

Information about system changes, operations, drivers and more system events is tracked by the system itself. Such information is stored in System Log Files, some of which become unneeded after some time and can be get rid of safely with no harm to the system.

Universal Binaries

Universal Binaries are special files that allow applications run on both Intel and PowerPC computer architectures. Since your Mac requires only one architecture the part of Universal binaries necessary for second architecture can be completely removed.

Development Junk

During installation of applications some of them can create support files in order to finish installation process of those apps on your Mac successfully. When the installation is finished those created files can be deleted in order to free space on your machine.
Select the files you would like to get rid of and click "Clean"
Trash Cleanup
Empty all Trash folders at once
Did you know that junk files can be found all over your Mac?
There are even several Trash folders on your system, which are created by different applications. With Trash Cleanup you are able to delete all trash folders at once, because MacShiny scans your Mac thoroughly and finds all those folders very fast.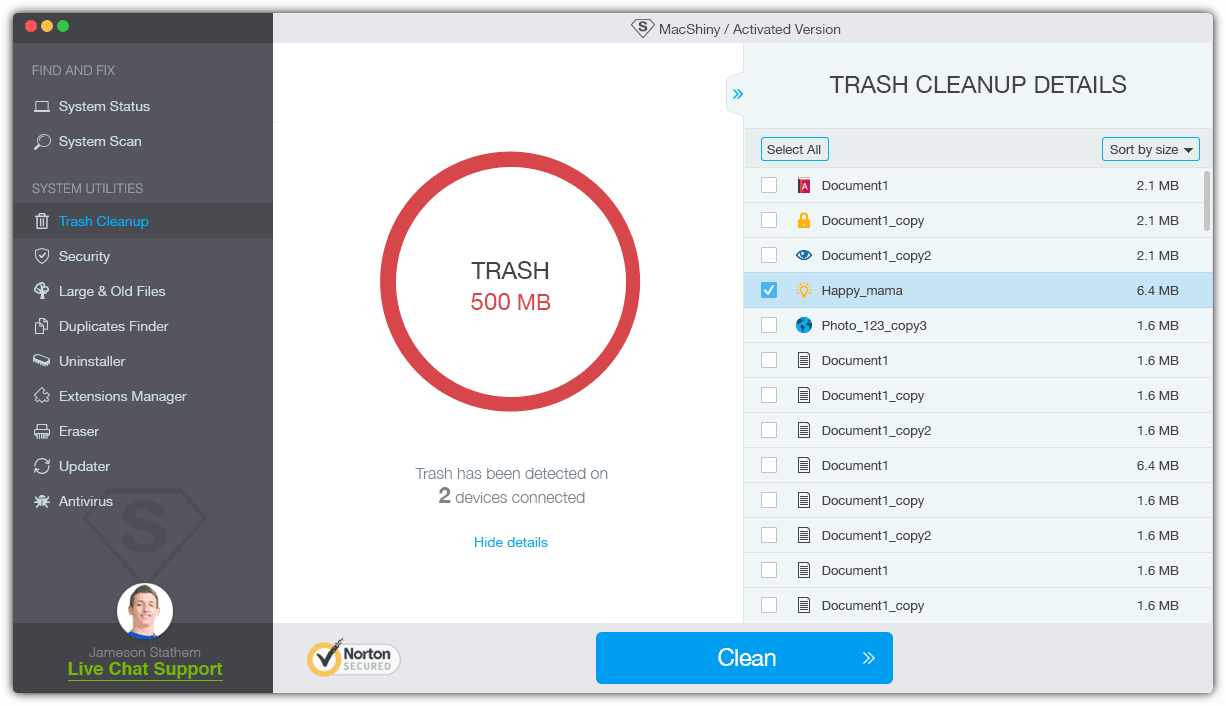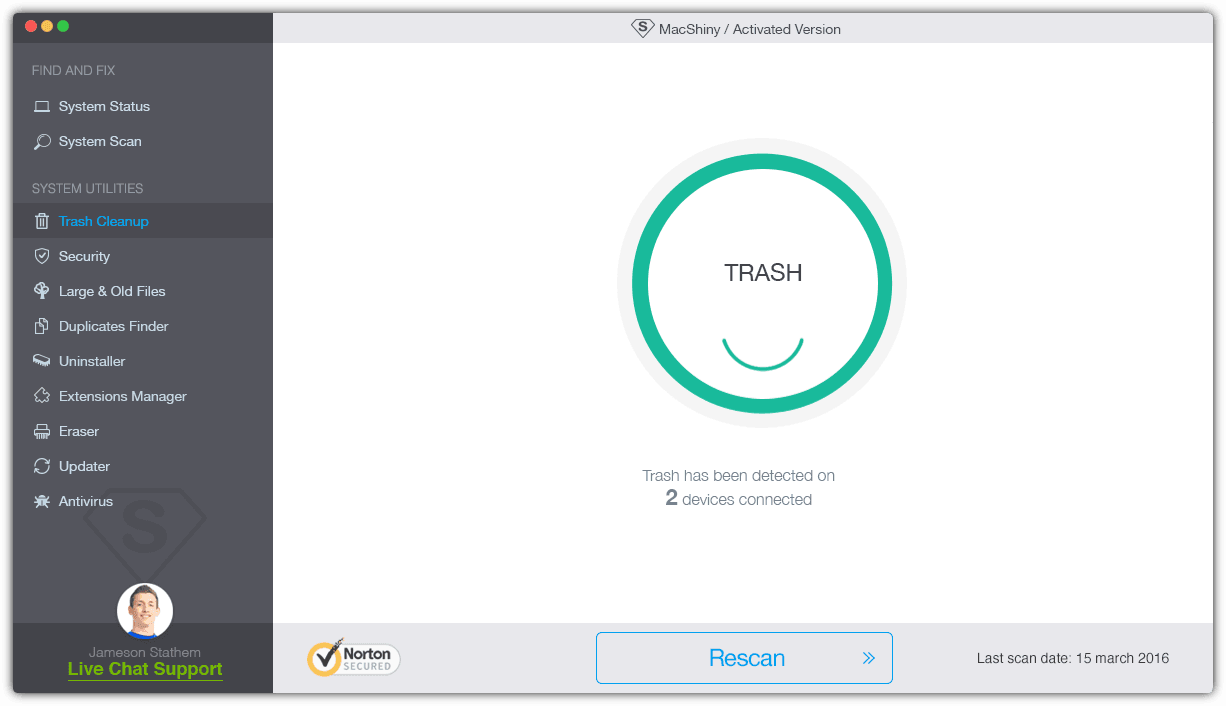 Security
Protect your Mac from malware and incorrectly performing apps
MacShiny provides your Mac with a solid protection against malware attacks. The 'Security' module lets you immediately enable Firewall to prevent unsafe connection for all or some of the applications used on your system. Utilize 'Update' control to check if all your applications are freshly updated and ensure that none are slowing your Mac down. Update all apps, turn on Firewall - safe solution by MacShiny!
Security module lets you protect your Mac against harmful viruses, online threats and incorrect performance of outdated apps. The Security bloc comprises two components: 'Update' control and 'Firewall' manager. We recommend make use of both tabs to ensure the highest level of protection for your Mac OS system.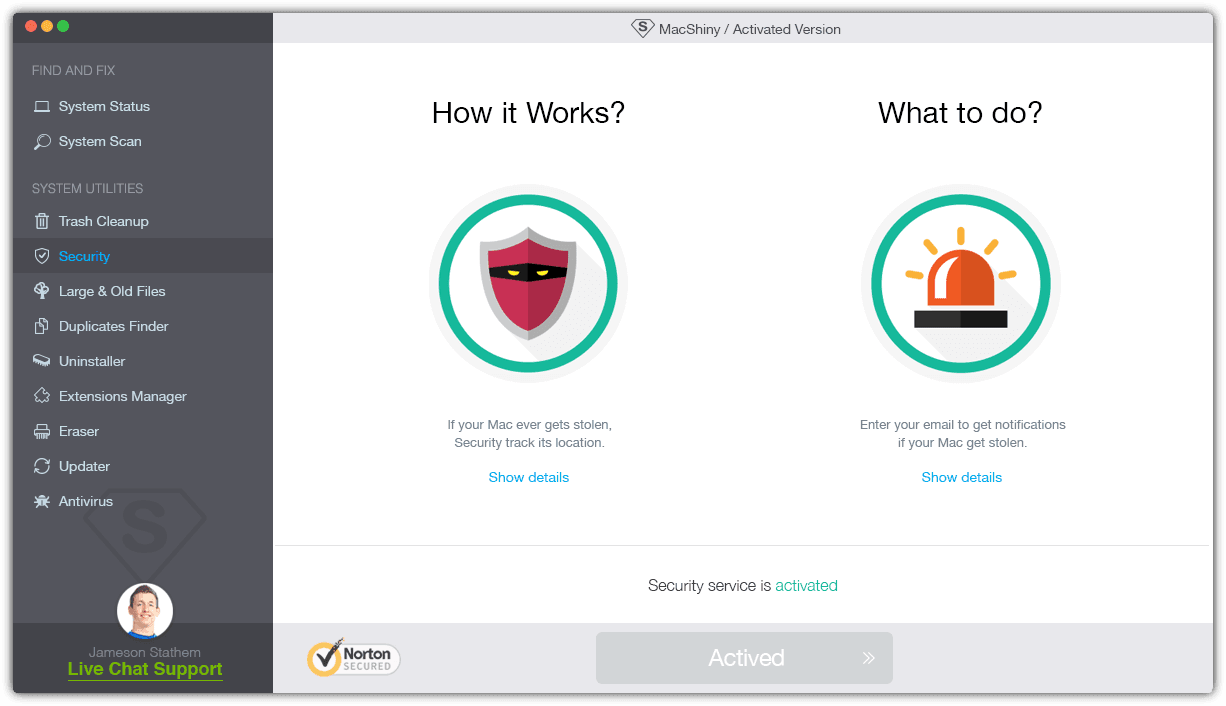 Large & Old Files
Detect and delete big files on hard drive
Big files are always a big problem when it comes to occupying free disk space. So don't wait any second longer to locate and delete all the huge files you forgot about on your Mac. Enjoy more free space on your hard drive after proper cleanup and removal of the files that you frankly don't need anymore.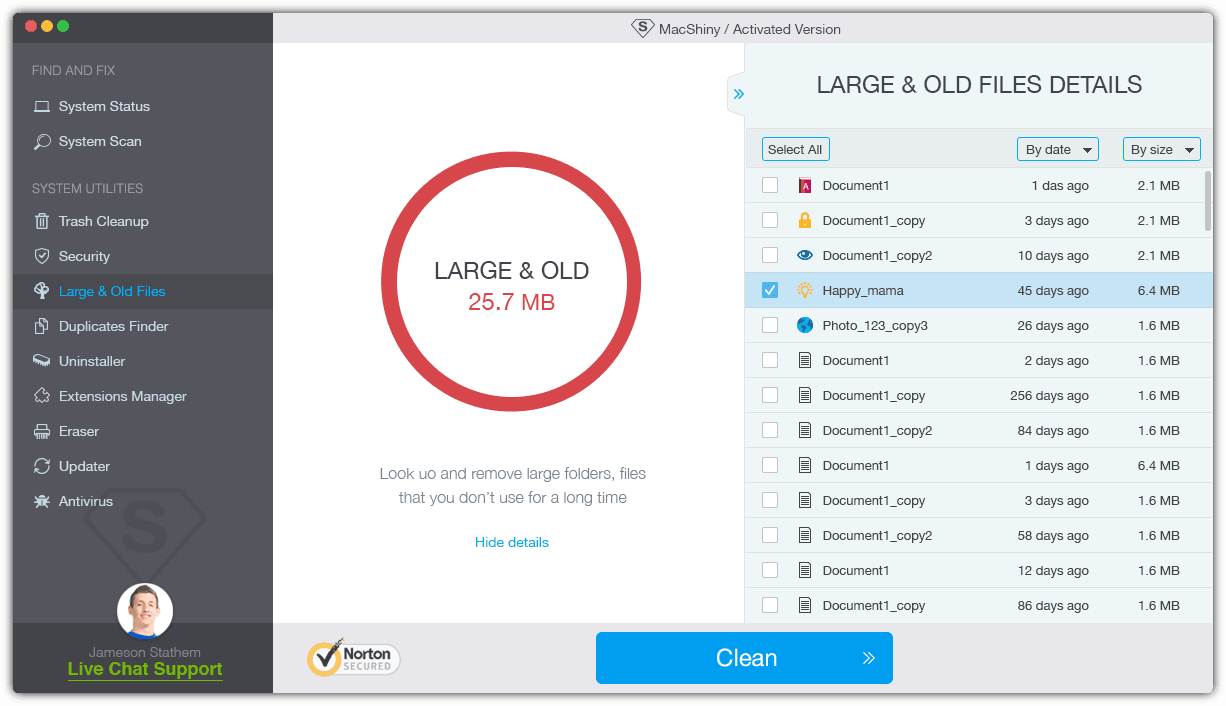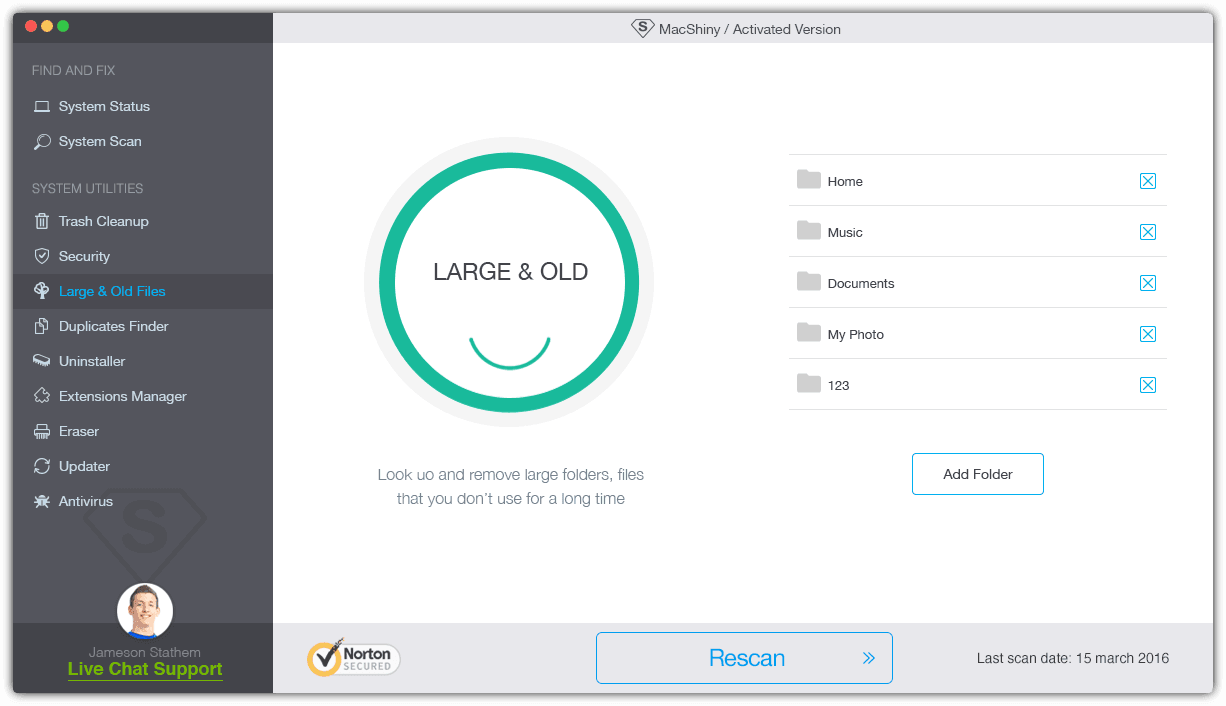 Duplicates Finder
Discover and remove file copies
Speed up your system by getting rid of duplicate files that simply clutter up disk space. Those file copies don't serve you at all, but might still be located in various file folders on your Mac. MacShiny runs a quick system scan, locates duplicates and safely deletes them. What you get is more free space and much higher speed of your Mac!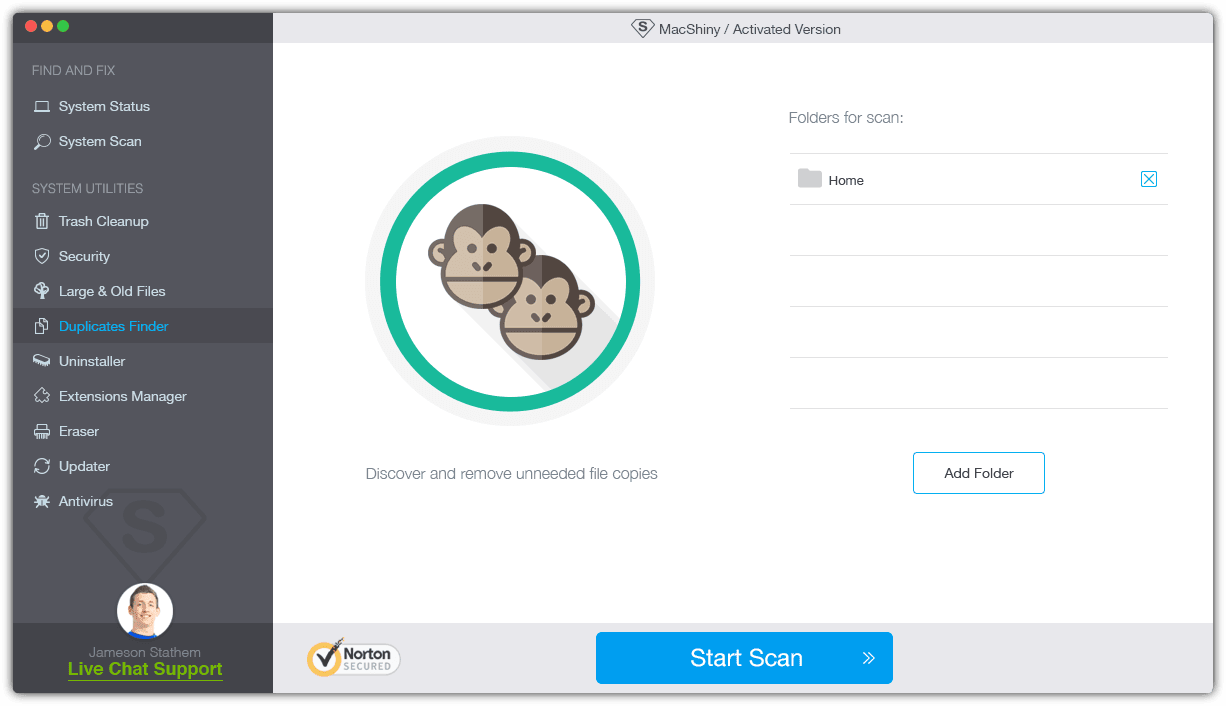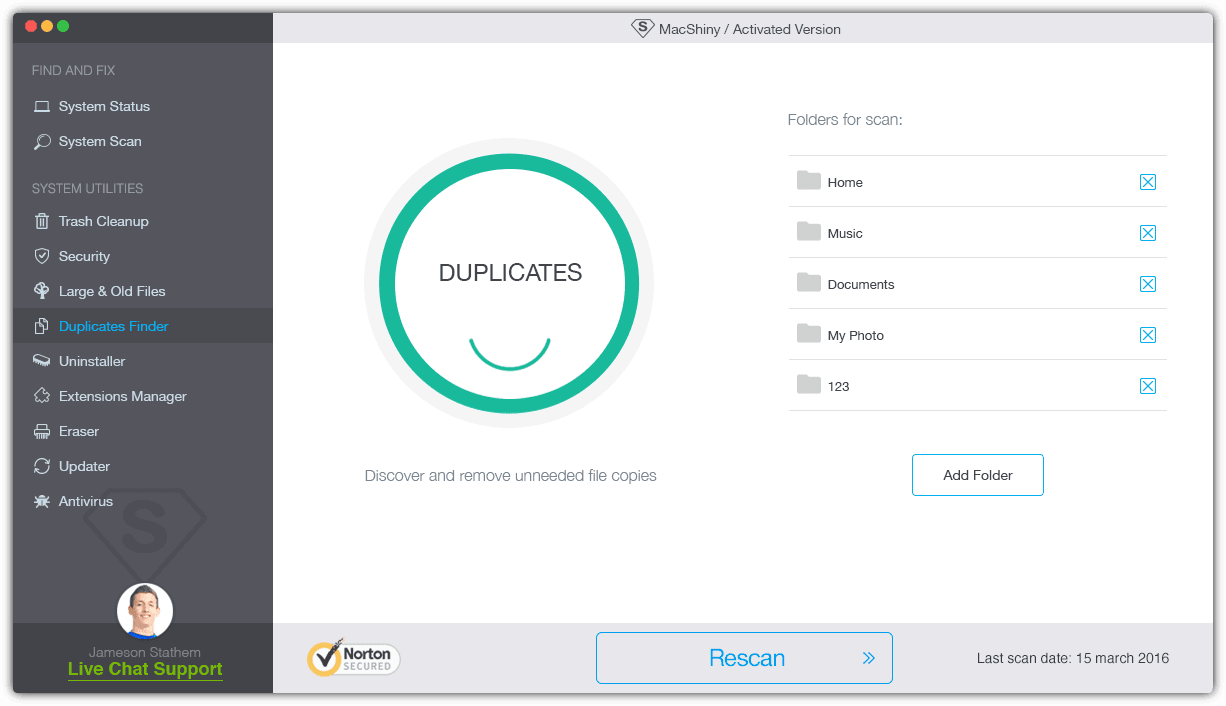 Uninstaller
Locate and delete apps fast
Get rid of old apps and their leftovers in a safe way with Uninstaller. It's absolutely easy to locate and remove all programs that you don't use any longer. MacShiny smartly detects all the accompanied files of the old applications that hide on your system and can be removed safely too.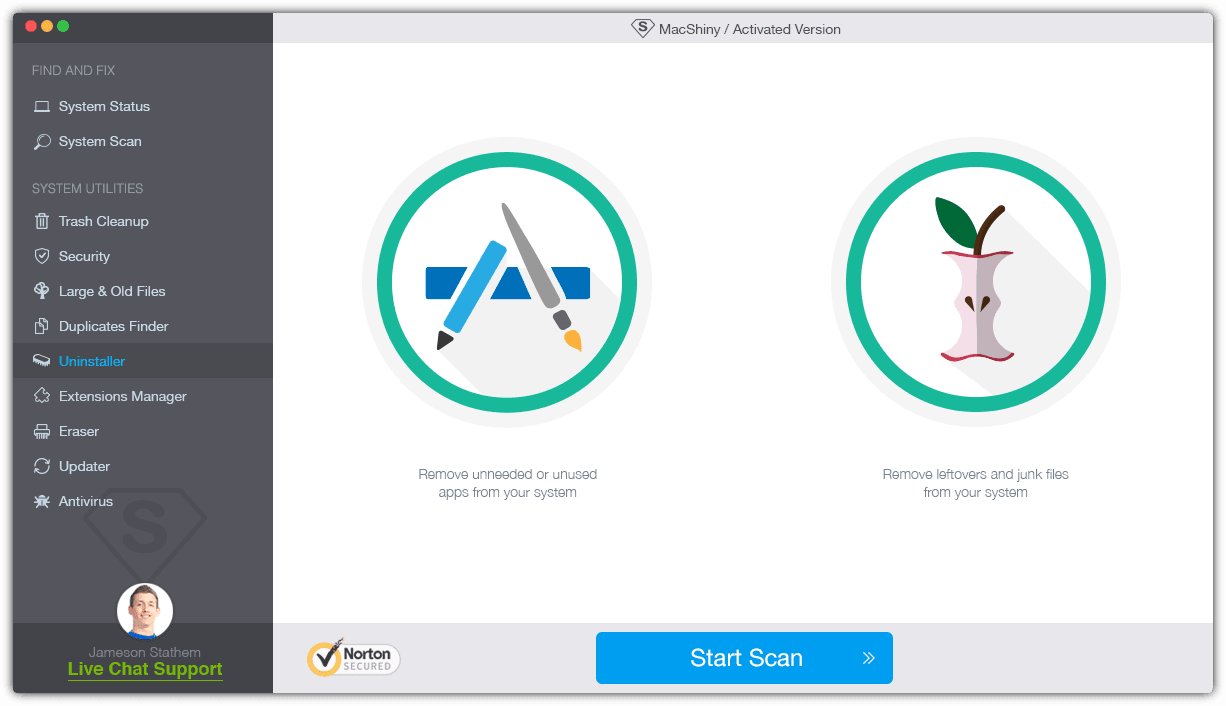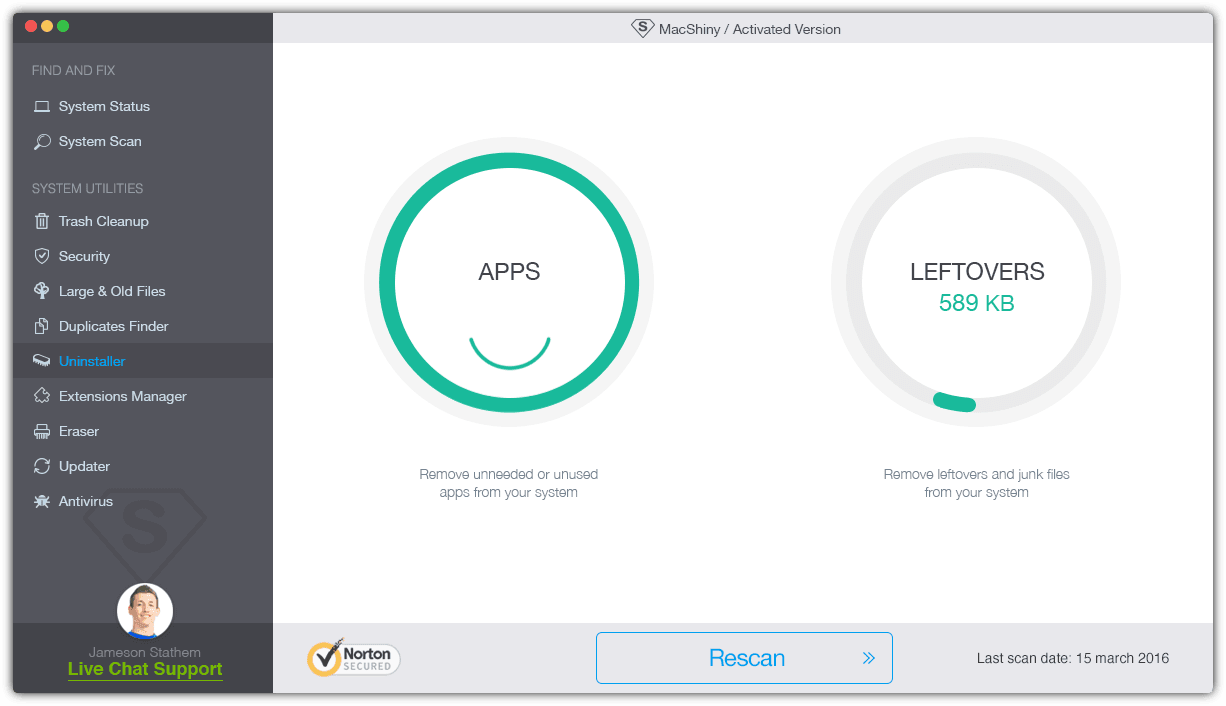 Extensions Manager
Uninstall plugins
Many of us install the plugins which we don't use afterwards. If you don't want different extensions to slow down your Mac then use Extensions Manager to simply uninstall the ones you don't need. MacShiny will make sure that the unnecessary plugins will not clutter your disk space anymore.
Depending on your individual scan results you will see some or all of the mentioned extensions: Dictionaries, Quick Look plugins, Spotlight plugins, Web browser plugins, QuickTime Player, Tunes plugins and Login items.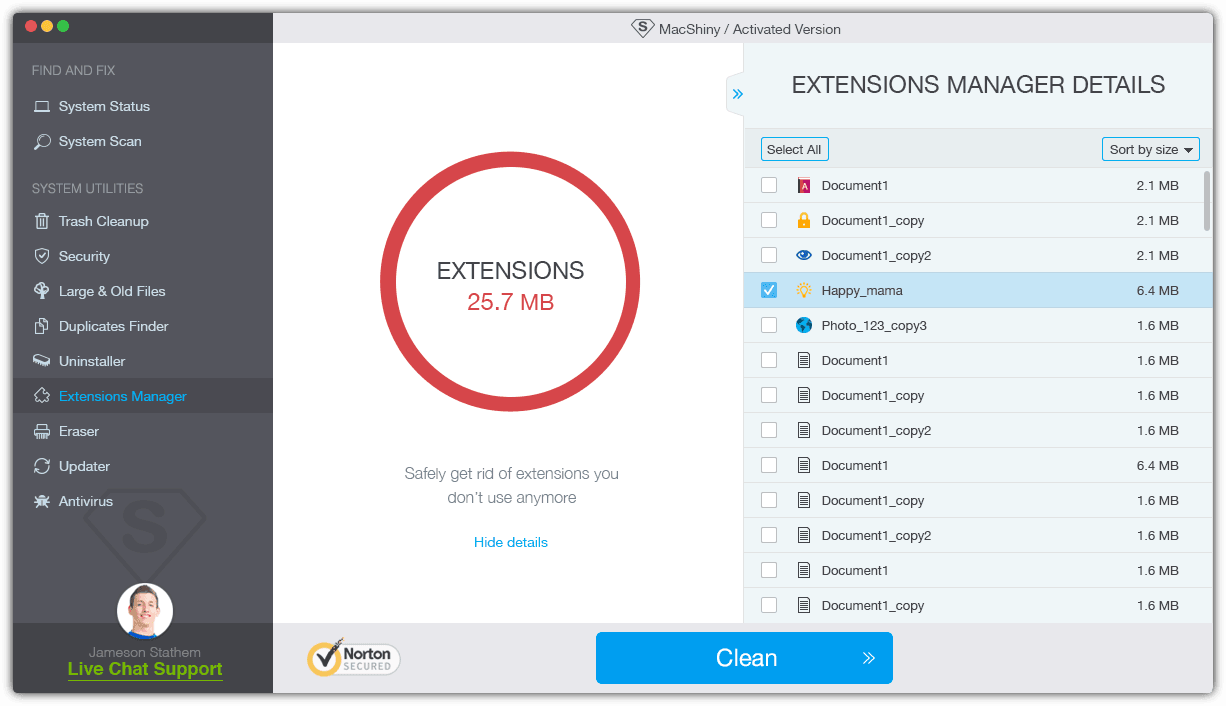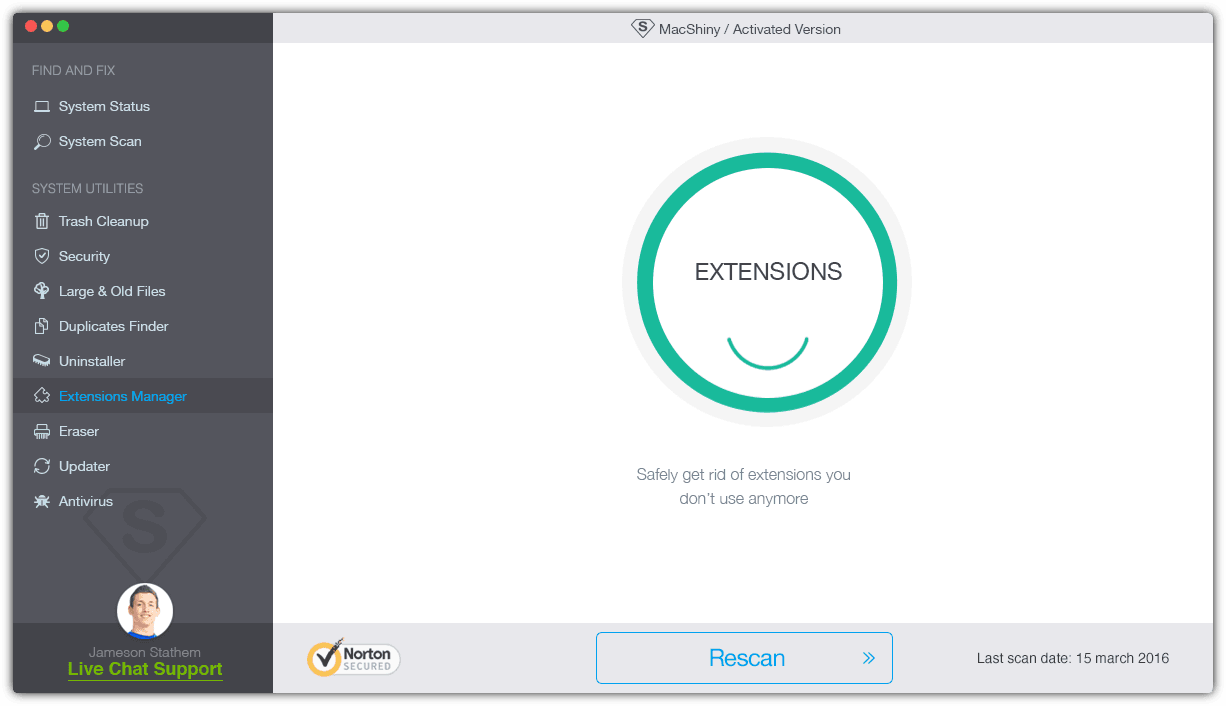 Eraser
Delete folders and files for good
If you wish to safely delete private or any sensitive data forever then Eraser is the right option. Securely delete all files that didn't went into Trash folders somehow but must be wiped out from your system without any chance of recovery. Eraser is a 'virtual shredder' that makes deletion of any files permanent and real.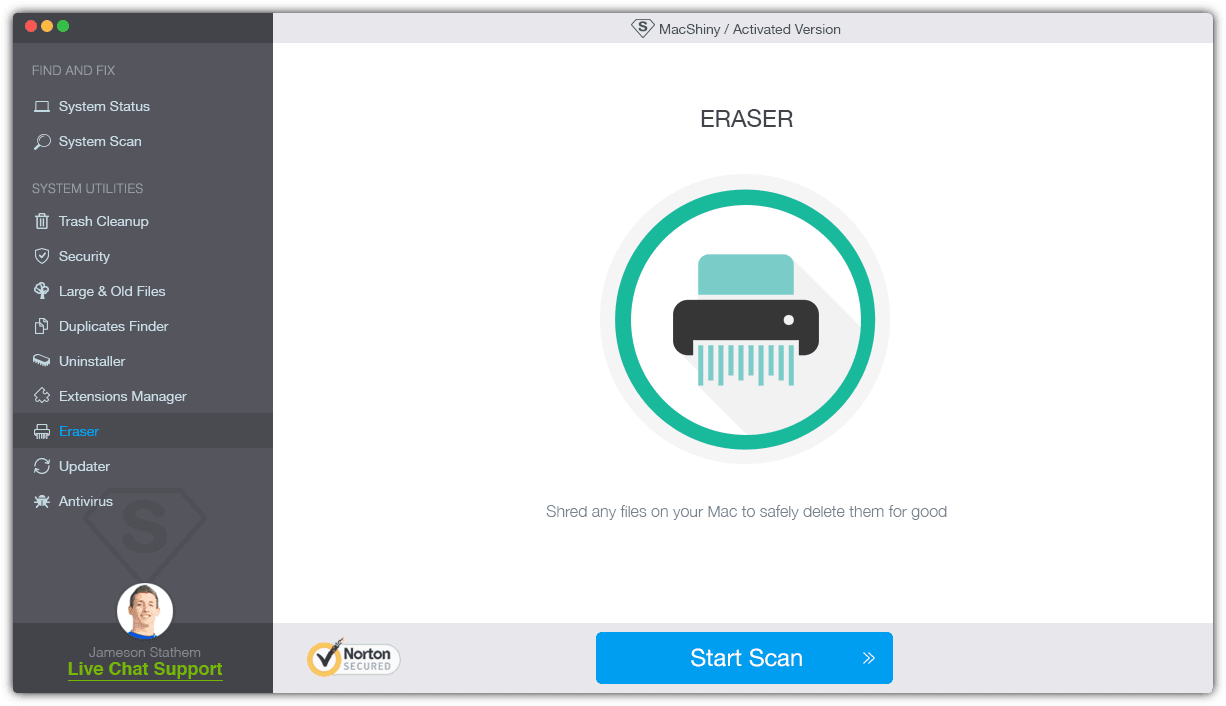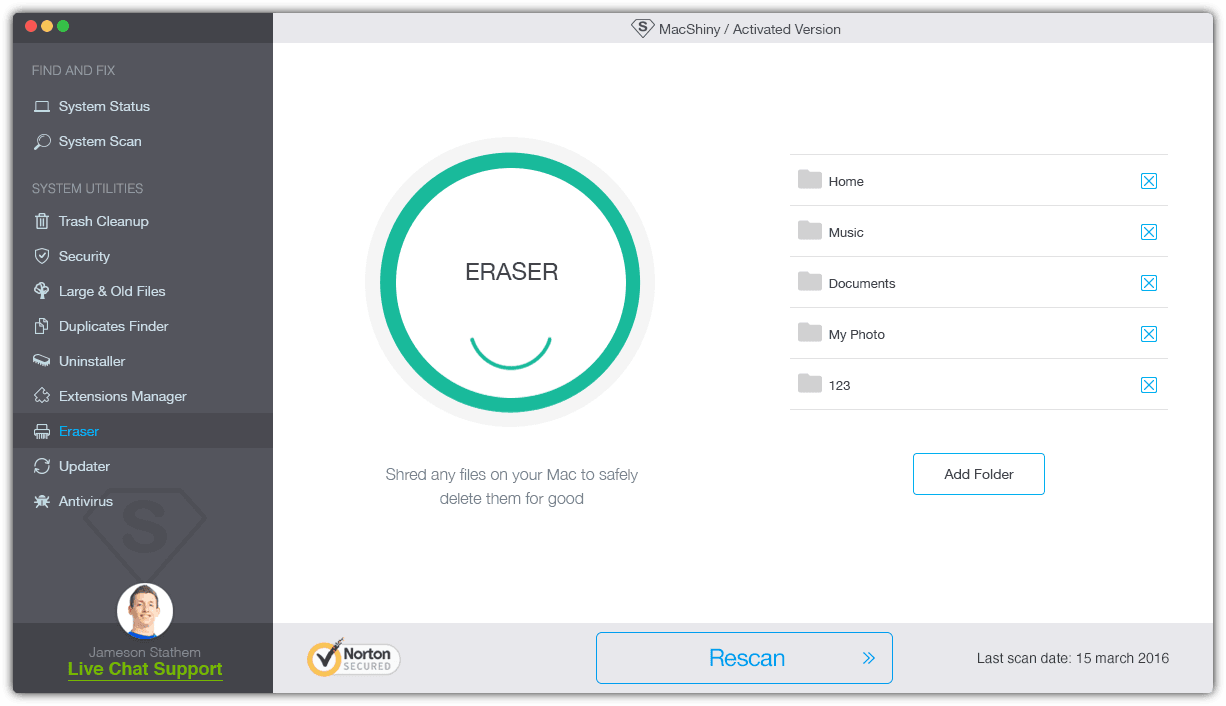 Do you want to run programs on the Mac stably and smoothly? It is necessary to periodically update them to the latest version - most recent programs have a minimum of errors and work several times faster.
If you do not have time to up-to-date programs installed on your Mac manually, leave it to Macshiny Updater! Just one click required to update all your apps to the latest version.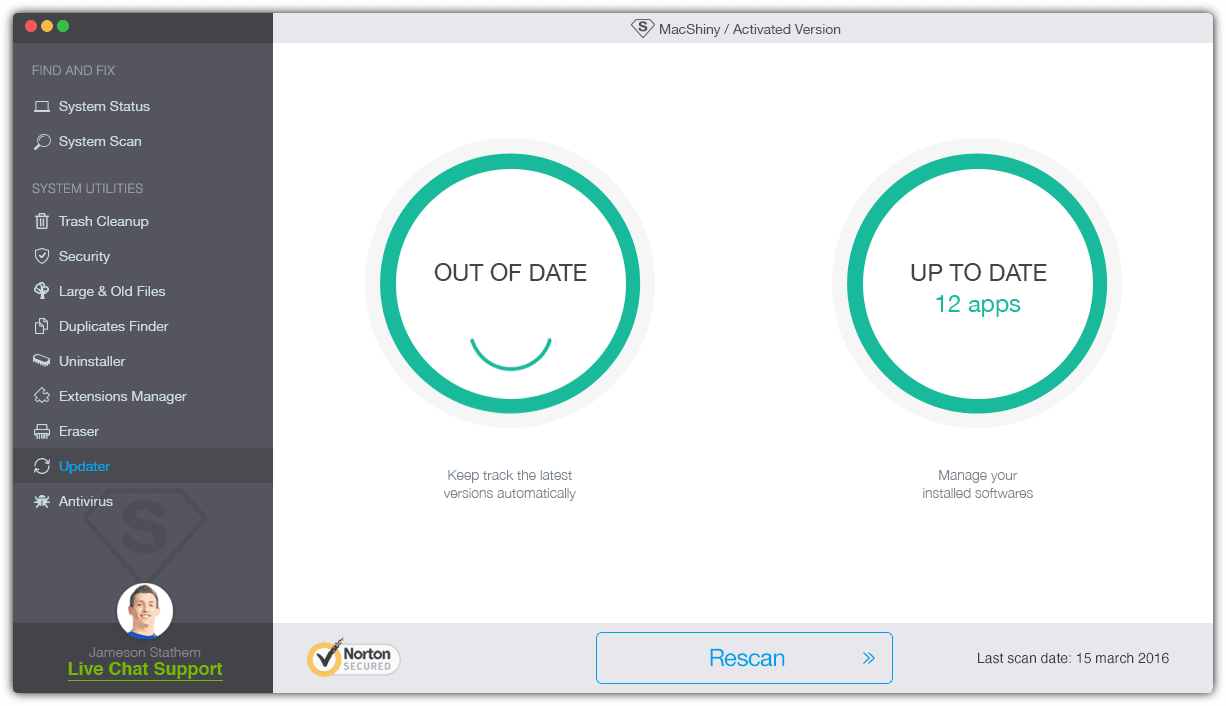 MacShiny antivirus toolkit able to detect many types of malicious software, including viruses.
The Internet is dangerous place to surf without reliable protection. A huge number of malware, viruses and unsafe websites that harm the system and steal your confidential data. Protect your Mac with Macshiny Antivirus!
Integrated anti-virus protection will provide a safe Internet surfing, protect data from unauthorized access, detect and eliminate potential threats and protects your Mac against malware and trojans.